In the marketplace for housing, we are often limited to choices that are aimed at a consumer prototype as imagined by a typical developer or marketing team. The designer and developer of most multifamily residential communities are faced with the often daunting task of predicting who will ultimately live there and what their preferences will be. Direct involvement of future residents in the design and decision making process takes away the guess work and allows for creation of a tailored residential environment.

and EDG are dedicated to utilizing "green" technologies and to the creation of sustainable residential environments.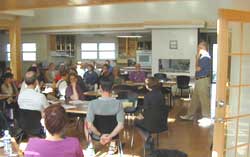 Takoma Village Cohousing, our first cohousing community, is a national demonstration project for PATH ( Partnership for Advancing Technology in Housing ), a US Department of Housing and Urban Development initiative. This initiative focuses on reducing energy consumption in new housing. The community is "Energy Star" certified. Additional green technologies that we have implemented include the use of sustainably harvested wood, recycled content wet-blown cellulose insulation, geothermal ground source heat pumps, green flooring materials, fiber-cement siding, and recycling of construction wastes. We also believe in diverse and economically integrated communities. A more tailored or customized residential community does not necessarily mean one that costs more.
Eastern Village Cohousing, completed in January 2005 and located on the Maryland-District of Columbia border, is also a very urban 'green' and sustainable community. It won the 2005 National Association of Home Builders Green Building Award for Luxury Multi Family homes.
Don Tucker, principal in

, has 30 years experience developing affordable housing and has successfully completed 3,500 affordable units.