Eastern Village, Silver Spring, MD
WINNER NAHB AWARD FOR GREEN BUILDING
[See Eastern Village Photo Album]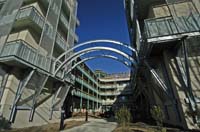 Eastern Village Cohousing was completed in January 2005. Located right on the
Maryland-District of Columbia border, Eastern Village is a very, very urban
'green' and sustainable community. The 56-unit loft-type cohousing development comprises 1, 2, & 3-bedroom flats and lofts. The members and residents also share approximately 5,000 s/f of common area in its Common House. Some of the shared spaces include a large living room, dining room, kitchen, exercise room, meditation room, roof top gardens, children's play areas, workshop, etc. And it's easy walking distance from the Silver Spring Metro, MARC train stations, and convenient shopping and services.
For further information on Eastern Village and units for resale, visit the Eastern Village Website.
Photos of Eastern Village | Unit Descriptions (as Acrobat PDF)
Winner 2005 National Association of Home Builders Green Building Award for Luxury Multi-Family Homes