Takoma Village Cohousing, Washington, DC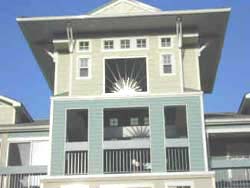 earned its prominent place in cohousing development with its rapid completion of Takoma Village Cohousing in early 2001. Among TVC's green building features are ground source geothermal heating and cooling, certified sustainably harvested wood, and maximal insulation. The first and only cohousing community in the U.S. capital, TVC is an urban condominium association of 43 households.
TVC's 70 residents, singles and families, are a diverse group by race, ethnicity, income, occupation, faith, lifestyle, politics, talents and interests. Ages range from newborn to over 80. Yet all share a deep commitment to community living, environmental responsibility, democratic process and decision-making, mutual support and cooperation. Residents also exhibit great respect for both privacy and active participation in their local Takoma Park neighborhood and the larger world.
Takoma Village is conveniently located in a beautiful area of northwest Washington, DC (near the "top of the diamond"). The site is next door to the historic Takoma Theater, just one block south of the Takoma Metro Station on the Red Line. All units are fully occupied, but those interested may be added to the waiting or rental list.
See also

's "Projects in Process."
See also www.cohousing.org
for information on the Cohousing Association of the United States and more than 100
other cohousing communities across North America.